WHY DO REPUBLICANS HATE HEALTH CARE AND THE AMERICANS THAT NEED IT?
Paul Krugman's column today in NYT (3/27/19) asked the question above: Why do Republicans hate health care and the people that need it, mostly people of his base? He doesn't know, and either do I. Some of Krugman's thoughts as to why the GOP is so cruel and heartless on this and many other subjects are these:
Maybe itís anger at the thought of anyone getting something they didnít earn themselves, unless itís an inheritance from daddy.
Maybe itís a sense that a lot of gratuitous suffering is or should be part of the human condition, or Godís plan, or something [at least for those that are not part of the 1%].
Below, borrowed from the Kaiser Family Foundation is a chart for West Virginia where 80% of the voters went for Trump over Clinton on the promise that he would bring back coal and leave their health care alone. The current Trump lawsuit against the Affordable Care Act will result in well over 100,000 West Virginians losing their health care. Gotta love those angry white voters. Of course, some of those voters won't be voting next time if Trump is successful and they die. Hopefully they'll wake up and send a message to their mostly GOP Representatives that Trump is breaking his promise, so surprisingly.
<![if !vml]>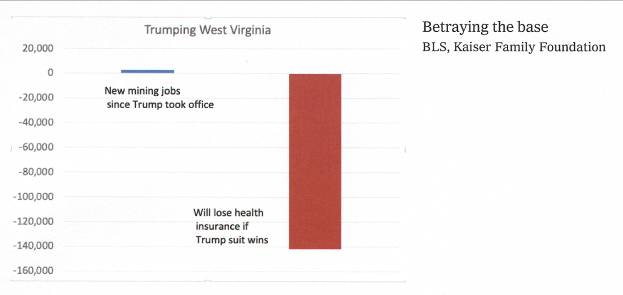 <![endif]>